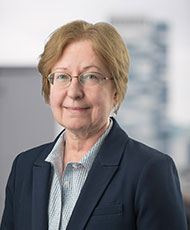 Mary P. Higgins
General Counsel - Real Estate
Mary Higgins is the General Counsel – Real Estate of Griffin Capital Company, LLC  and is based in the firm's Chicago office. Ms. Higgins formerly served as General Counsel to GCEAR from 2009 to 2020.
CAREER SUMMARY
Prior to joining Griffin Capital, Ms. Higgins was a partner at the law firm of Wildman, Harrold, Allen & Dixon LLP in Chicago, Illinois. Ms. Higgins has been Griffin Capital's primary real estate transaction counsel for more than 16 years and she worked together with Griffin Capital's principals on nearly all of the firm's acquisition, due diligence, leasing, financing and disposition activities during that time period.
Ms. Higgins has over 30 years of experience representing both public and private real estate owners, tenants and investors in commercial real estate matters, including development, leasing, acquisitions, dispositions, and securitized and non-securitized financings. Representative transactions include sales and dispositions of regional malls, including some of the premiere regional malls in the nation; sale of a golf course in an UPREIT structure; a $38 million credit tenant loan transaction; acquisition of various Florida office properties for a $150 million office property equity fund; representation of the ground lessor in a subordinated tenant development ground lease and a $350 million property roll up. Ms. Higgins has extensive experience in commercial leasing issues, including office, retail and industrial properties (including multi-state industrial sale/leasebacks) and originally authored the chapter entitled "Due Diligence on Commercial Leases" in the Real Estate Transactions volume published by the Illinois Institute for Continuing Legal Education. She assisted the Chicago Economic Community Development Law Project by training volunteer attorneys to provide legal services to participants in the CHA "Choose To Own" program. She is a mentor in the Harold Eisenberg Foundation mentoring program and was certified as a mediator through the Center for Conflict Resolution, Chicago, Illinois.
EDUCATION
JD, DePaul University College of Law
BS, Legal Administration, Mallinckrodt College (now part of Loyola University)