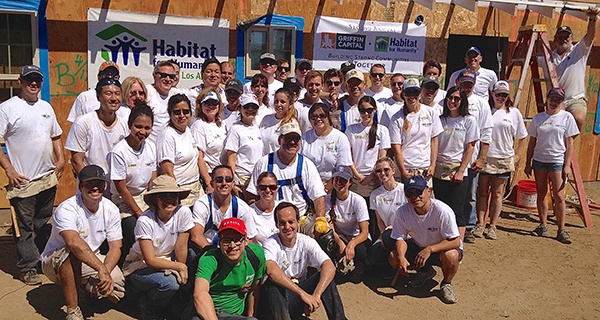 October 20, 2014
Griffin Capital Corporation Partners with Habitat for Humanity for Second Straight Year
El Segundo, CA. (October 20, 2014) Griffin Capital Corporation employees, along with volunteers and employees from Habitat for Humanity of Greater Los Angeles recently collaborated on the construction of a multi-home project for deserving families in Long Beach, California, not far from Griffin's headquarters in El Segundo. Over the course of a day, over 40 Griffin employees framed and erected walls, dug trenches and laid water pipes and installed rafters and roof sheathing for two different homes. Griffin employees, many of whom had no prior experience in construction, were given training in the proper and safe use of power tools, digging equipment and other building hardware throughout the day, and they enthusiastically embraced the challenge. One highlight of the day took place during lunch when a recipient of a Habitat-built home spoke about what a difference this housing had made in his family's life and happiness, and how grateful he was for the hard work of the volunteers. It was an emotional and gratifying moment for the Griffin team. David Rupert, President of Griffin Capital concluded: "This was a very rewarding day not only for the future tenants of these fine homes, but for all Griffin volunteers. In addition to learning the basics of building houses from the ground up, we all gained invaluable teamwork and leadership skills outside of our daily work environment, and a sense of satisfaction that we meaningfully contributed to the communities in which we live." This was the second Habitat project Griffin Capital has participated in, as it has become an annual event for the company.
About Griffin Capital Corporation
Griffin Capital Corporation ("Griffin Capital"), is a privately-held, Los Angeles headquartered investment and management company with a 19-year track record sponsoring real estate investment vehicles and managing institutional capital. Led by senior executives, each with more than two decades of real estate experience who have collectively closed transactions representing over $16 billion in value, Griffin Capital and affiliates have acquired or constructed over 31 million square feet of space since 1995, and currently own, manage, sponsor and/or co-sponsor an institutional-quality portfolio of approximately 28 million square feet located in 32 states and 1 million square feet located in the United Kingdom, representing approximately $5.4 billion in asset value. Additional information about Griffin Capital is available at www.griffincapital.com.
About Habitat for Humanity Greater Los Angeles
Habitat for Humanity of Greater Los Angeles (HFH GLA) strives to eliminate substandard housing through advocacy, education and partnership with families and individuals in need to build decent, sustainable and affordable housing. Since 1990, HFH GLA has built and renovated more than 900 homes locally and worldwide, transforming the lives of hundreds of individuals. HFH GLA is a GuideStar® Valued Partner and has achieved the coveted Charity Navigator 4-Star rating awarded to non-profits for sound fiscal management and commitment to accountability and transparency. For more information, please visit http://www.habitatla.org or call 310-323-4663. Visit our blog at http://buildingagreaterla.blogspot.com.
###