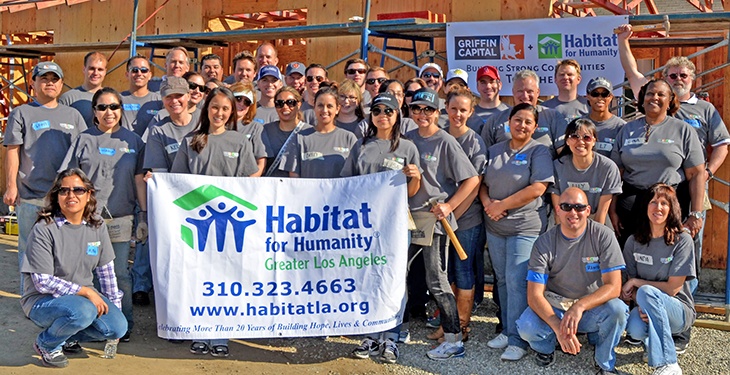 January 27, 2014
Griffin Capital Corporation Partners with Habitat for Humanity
El Segundo, Calif. (January 27, 2013) – On a recent brisk winter morning, Griffin Capital Corporation employees teamed up with volunteers and employees from Habitat for Humanity of Greater Los Angeles (HFH GLA) to work on a multi-home project for deserving families in Lynwood, California, not far from Griffin's headquarters in El Segundo. Over the course of a day, 40 Griffin employees framed roofs, installed floors, and assembled and erected walls for two different homes in the seven home "neighborhood" that HFH GLA is building. Although this was not Griffin's first community service project, it marked the first time Griffin Capital partnered with Habitat for Humanity. David Rupert, President of Griffin Capital explains, "We picked a Habitat project because a number of our employees had worked on other Habitat homes over the years and found them both well organized and very fulfilling. A project focused on building homes also made sense because we are a real estate investment company, and 'bricks and mortar' is part of our DNA." Rupert continued, "We couldn't be happier with how the day turned out. It was exciting to see all of our employees, from the top brass down to the young associates working together towards a common goal. Not only was this a great team building experience, it was an opportunity to help build homes for hardworking, low-income families in our area. We already have plans to expand our involvement with Habitat next year by including even more employees."
About Griffin Capital Corporation
Griffin Capital Corporation ("Griffin Capital") is a privately-owned real estate company headquartered in Los Angeles. Led by senior executives each with more than two decades of real estate experience collectively encompassing over $16 billion of transaction value and more than 650 transactions, Griffin Capital and its affiliates have acquired or constructed over 28 million square feet of space since 1995. Griffin Capital and its affiliates currently own, manage, sponsor and/or co-sponsor a portfolio consisting of over 26 million square feet of space, located in 32 states and representing approximately $4.7 billion in asset value. Additional information about Griffin Capital is available at www.griffincapital.com.
About Habitat for Humanity of Greater Los Angeles
Habitat for Humanity of Greater Los Angeles (HFH GLA) strives to eliminate substandard housing through advocacy, education and partnership with families and individuals in need to build decent, sustainable and affordable housing. Since 1990, HFH GLA has built and renovated more than 900 homes locally and worldwide, transforming the lives of hundreds of individuals. HFH GLA is a GuideStar® Valued Partner and has achieved the coveted Charity Navigator 4-Star rating awarded to non-profits for sound fiscal management and commitment to accountability and transparency. For more information, please visit http://www.habitatla.org or call 310-323-4663. Visit our blog at http://buildingagreaterla.blogspot.com.
###